A pillar of social media management is finding valuable content and sharing it via a variety of social platforms.  But with so much information online how do you find the right content?  How do you maintain a consistent flow of meaningful posts?  This process can be both overwhelming and time consuming.  Our solution at YesGraph is to use the online tools Inc and Buffer to collect information and create posting schedules.
Everyone on the YesGraph team finds great content online and we needed a place where we could share, store and collaborate on all of it.  Sure, we could copy a link and send it via email, but that information is easily lost in email threads or chat sessions.
Collecting Content With Inc
We use Inc to maintain an accessible library of interesting content over time. When a team member finds an article that they feel is valuable to our online community, they use the Inc Chrome extension and instantly upload the content to our Inc library with the comment #newsletter (the overarching hashtag for our social media posts).
I search #newsletter daily and see what articles have been shared and curate them for all of our social platforms. Team members can also leave comments and instruction. For example "please tweet @bobbrown with this article". This allows the whole YesGraph team to be a resource for sharing valuable content.
We use this process for more than social media. Some links are great for #engineering, others help with #onboarding new employees. We use hashtags like this to help organize all this great content.
Posting Content With Buffer
With all of the content collected I turn to Buffer to help make posting easy and efficient.  I am able to take the information straight from our Inc library to Buffer where I can upload posts for all of our platforms at once. The custom scheduling allows me to tee up multiple posts in the future.
Inc + Buffer
With a full library of content and a schedule, I can layout my social media posts days in advance which takes away the stress of always updating in real time. Once I have shared an article I comment #shared on my Inc feed so that I can track what articles have already been used. I also use the Buffer analytics data to see how my posts have performed. Here is what that looks like, ample whitespace and all: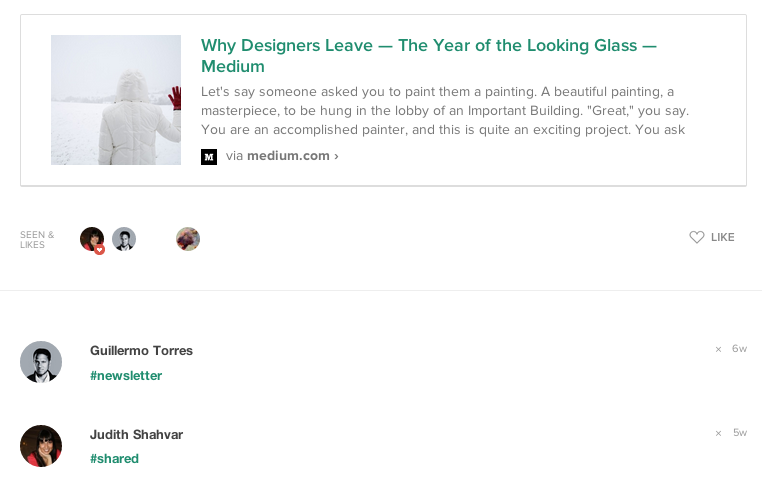 Overall, I spend around 30 minutes to curate the content that goes out through the week. Thanks to the awesome teams making Inc and Buffer!